SUPPORTING INDIVIDUAL STUDENTS
When a student has low attendance, poor grades, or disruptive behavior, there is rarely one thing driving the student's challenges. That's why Communities In Schools of Chicago surrounds students with a community of support, and an array of resources, to empower them to stay in school and achieve in life.
Our Intensive Program places 31 master's level professionals, or Student Supports Managers, on-the-ground at schools to provide intensive support for students at risk of failure or dropout. Each Student Supports Manager is responsible for a caseload of about 50 students, and they work with these students to create a plan and provide them with direct supports, like individual or group counseling.
Student Supports Managers help students develop the skills and access the resources they need to make progress on their plans. They also connect students with community partners, as necessary, to provide them with other resources, including enrichment opportunities and academic support, that the students need to reach their full potential.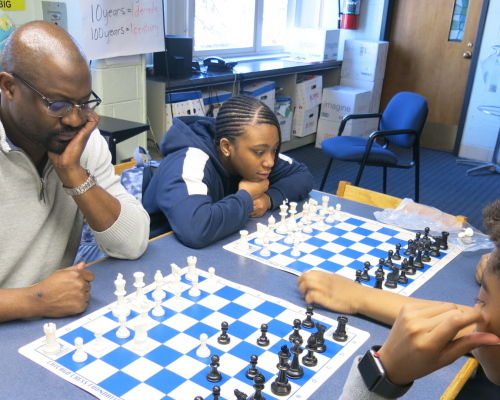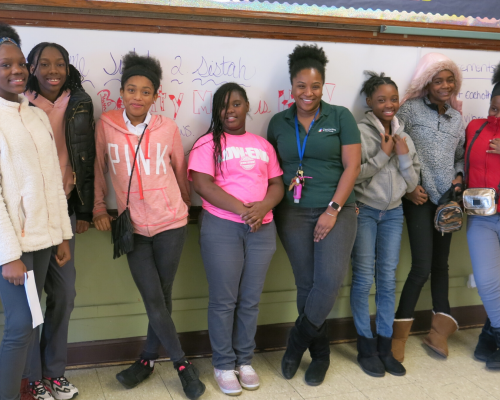 Student Supports Managers collaborate with teachers and other school staff, and they are responsible for liaising with the school as well. They connect the entire student body to CIS of Chicago's network of community partners, based on the school's needs. Services provided by these partners come at no cost to the students or the school and focus on four key areas: behavioral and mental health, the arts, college and career readiness, and health and wellness.
Of the more than 2,700 students we have supported in this way between 2009 and 2019, the following results occurred (within the year that our team worked with those students):
95 percent of 12th grade students graduated
96 percent of Kindergarten through 11th grade students were promoted to the next grade
Fewer than 1 percent of students dropped out
Learn more about the Intensive Program's model, called Integrated Student Supports.
RECOGNIZING STUDENTS' TENACITY
Each spring, Communities In Schools of Chicago recognizes hard-working students who don't normally get attention for school success. These are students who have stumbled academically, struggled with school attendance or behavior, dealt with tremendous personal challenges, or even considered dropping out of school.
The Tenacity Awards are presented to students who are receiving guidance from our Student Supports Managers and have found the drive to work through challenges and improve their school performance. By working with dedicated Student Supports Manager, they have become more responsible, accountable, and goal-focused to make huge strides in their academic and personal lives.
Since 2014, CIS of Chicago has presented 53 students with a Tenacity Award. Students receive a cash award (compiled from donations by current and former staff members), a certificate of achievement, and a personalized ceremony at their school. Past winners have purchased a laptop, a bicycle to get to and from an after-school job, and new clothing for school. As important as the cash award is the public recognition for students who dug in, stayed hopeful, and progressed on their goals.
In 2019, the Tenacity Awards were presented to:
Braulio, Cárdenas Elementary School
De'Avian, Michele Clark Academic Preparatory Magnet High School
Alexis, Clay Elementary School
Salvador, Cesar E. Chávez Multicultural Academic Center
Edward, James R. Doolittle, Jr. Elementary School
Mercedes, Foreman College and Career Academy
Nayla, George Washington High School
Uriel, Hayt Elementary School
Valeria, Marsh Elementary School
Liberty, Dr. Martin Luther King, Jr. Academy of Social Justice
Israa, Stephen Tyng Mather High School
Ranesha, Mireles Elementary School
Gilberto, Phoenix Military Career Academy
Fabiola, Rowe Elementary School
Angelina, Pilsen Community Academy
Jaden, Randolph Magnet School
Roselyn, Saucedo Scholastic Elementary Academy
Esequiel, Vaughn Occupational High School
Macail, Webster Elementary School
Montrell, Westcott Elementary School
Check it out! Sarah Karp of WBEZ, Chicago Public Radio, reports on the Tenacity Awards and the story of Roselyn, our recipient at Saucedo Elementary.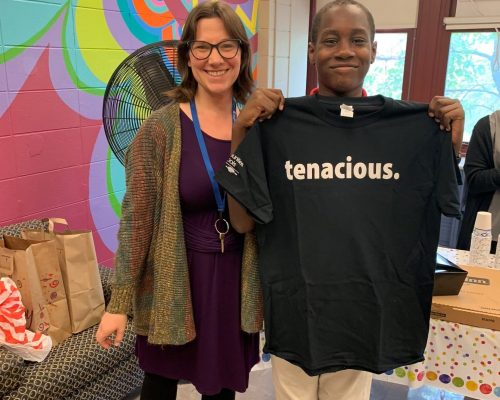 Since Fall 2009, of the 1,700 individual students whom our professionals have provided targeted, case-managed support, 97 percent of the high-school seniors have graduated, and 95 percent of the non-seniors were promoted to the next grade.